Any girl who pulls inspiration from Gerhard Richter paintings, the journals of Peter Beard and fried okra, among others, is a girl after my own heart. By nature, Ashley Chiles is a creator. In 2000 she began designing jewelry under the name
Ladyflash
and come 2005, she switched gears to produce Super 8-style
wedding and event movies
under the same name. For the girl who says she'd never have a wedding video [*raising hand*], pull up a chair. These artistic, impressionistic works are set to music to create a film that will forever capture your big day. Ashley now travels the world with her videography/designer/filmmaker talents—from the Ice Hotel in Sweden to a ryad in Marrakech and everywhere in between—and has worked with the rich and famous like Prince and Perry Farrell.
If like me your wedding has come and gone, you can get your fill of Ashley's
joie de vivre
via her new
blog
and
shortfilm archives
. There's surely a long road of continued success awaiting the Ladyflash empire!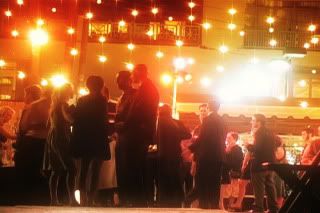 [Max and Victoria Collins]
Describe Ladyflash.
I create wedding and event movies for the girl who says she'd never have a wedding video. Like many other artists, I end up wearing many hats: art director, cinematographer, producer, journalist. Ladyflash was a nickname that one of my childhood friends came up with and he'd call me "Ladyflash. There she goes!" It stuck.
What's your design ritual?
Get organized, remove my desk of all clutter. Pull out tear sheets and design books for inspiration, as well as look at multitudes of websites [one favorite being
Tasting Table
].
Main source of inspiration?
Fascinating people with good stories. Peter Beard's collage journals. Sally Mann. Sarah Moon. Wim Wenders'
Until the End of the World
. Gerhard Richter paintings. Tony Duquette—that was a good story! I was introduced to his work for the first time nearly 2 years ago on a trip to New York. It was one of those perfect serendipitous moments where I ran into my Aunt Lois' longtime friend, famous old-school hairstylist Maury Hopson. Maury was going to Bergdorf's later that night for a party and signing of his friend, Wendy Goodman's, new book on art and design legend Tony Duquette. Maury invited me along and when we arrived they had transformed it into a Duquette Universe. The
window designs
were unlike anything I had ever seen!
What do you love most about designing?
The process of articulating various aesthetics and infusing aesthetic with narrative; creating or evoking a mood or a feeling; provoking an emotional response, even if very subtle.
What do you find most difficult about the design process?
Often it's being overwhelmed by the millions of options. It's like a 'Choose Your Own Adventure' and editing can be daunting. Committing to one vision or direction is so difficult!
Working so closely with music, what's on your iPod?
Fela. Talking Heads. Jim O'Rourke. Donovan. Radiohead. Electrelane. Santogold. Portishead. PJ Harvey, old Police, Stones, Zeppelin. Tacks & the Boy Disaster.
Favorite song at the moment?
Riki-Tiki-Tavi by Donovan.
Favorite books?
Cowboy Kate and Other Stories
by Sam Haskins and
Domestic Art: Curated Interiors
by Tony Duquette.
Favorite stores?
ABC Carpet & Home
in NYC and
Eliza Page
jewelry boutique in Austin.
What would people be most surprised to learn about you?
1. I was a debutante in Houston, circa '93. [HCC and the Assembly, baby!]
2. I recently became a huntress. I shocked myself when my First 3 shots ended up being my First 3 kills. A wild rio Grande turkey at 200 yards and an 8 point buck at 150 in Texas. And then a poor, wandering pheasant in Virginia [only for food; I would never shoot just for sport!] I can now make a mean venison carpaccio.
Favorite aspect of living in Austin?
The people. The friendliest, sometimes strangest, most interesting people ever. The hills, lakes, rivers and trees. I love hanging with friends having a glass of wine at the Hotel San Jose.