Summer calls for preparations to your toes and wardrobe as you switch from boots to sandals and leather to linen, so why shouldn't your bar receive the same attention? Cheers!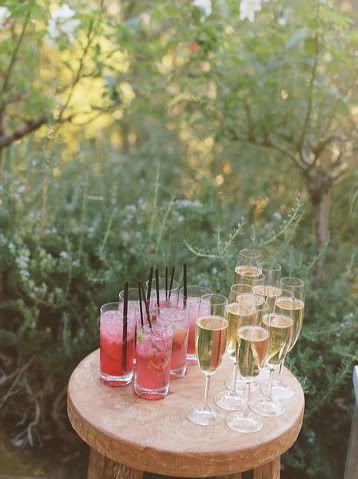 [photo by
Thayer Allyson Gowdy
.]
Stocking the Summer Bar:
• 
Abita's Strawberry Harvest Ale
.
 Using strawberries exclusively from Louisiana's Tangipahoa Parish, this seasonal brew flies off grocery shelves in the blink of an eye. One sip and you'll understand why.
• 
Barritt's Ginger Beer.
 Just what you'll need to add the kick in a Dark N' Stormy. The perfect compliment to a sweltering day.
• 
Cachaça Rochinha.
 Make your next Caipirinha with a cachaça [fermented sugarcane juice] known for its sweet, spicy fruitiness with an overlay of wood smoke. Everyone will be dancing the Samba by nightfall.
• 
Firefly Vodka
.
Vodka that tastes just like Chick-fil-A sweet tea! Use as a shot, in frozen sweet tea drinks and even spiked Arnold Palmers.
• 
Patrón Citrónge
.
A premium reserve orange liqueur that is the pièce de résistance in margaritas on the rocks.
• 
St-Germain
.
 The beauty of this elderflower liqueur is that it can be mixed a million different ways. It's quite the congenial spirit.
•
Lillet
.
A little Lillet, a splash of soda water, a slice of orange and voilà! You
can
bottle the feeling of Summer.
• 
Blenheim Ginger Ale
.
Ginger ale that means business.
• 
QTonic Water.
 Major bonus: this drier, slightly sweeter tonic is made with agave nectar rather than sticky corn syrup.
• 
Lemon-Mint Simple Syrup.
 The ultimate way to sweeten everything from a Gin Fizz to Iced Tea.
• 
In the Land of Cocktails.
A must read and I'd suggest doing so while rocking on the porch with a Sazerac in hand.
•
Stainless Straws.
 Reusable, but—more importantly—memorable!